ABS becomes 1st in the region to get US's GMAC nod for using GMAT score
Posted by Chirag Jain
Mar 25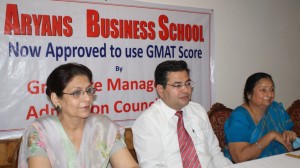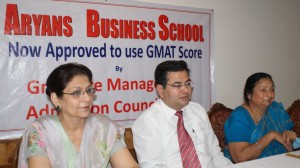 US based Graduate Management Admission Council i.e. GMAC has approved Chandigarh based Aryans Business School (ABS) to use Graduate Management Admission Test (GMAT) score. ABS has become 1st private B-school in the Chandigarh region and 31st in the country to get nod from GMAC to become the part of one of the biggest MBA entrance exam around the world i.e. GMAT.
Dr. Anshu Kataria, Chairman, Aryans Group, while addressing press conference in hotel Shivalik View said that it is a big milestone in the direction of becoming one of the best B-School of the region. We are already registered as a Non IIM member to use CAT-2009 score and now with GMAC approval we can use GMAT scores also. Kataria added that this development would help in bringing quality students in Aryans campus.
It is to be mentioned that Aryans Group of Colleges is being run by UBS, PU alumnus Dr.Anshu Kataria. In short span of 3 years, the group has emerged as one of the best upcoming Institute. In the region, Aryans is the only institute which is being run by the educationalist family. The Aryans Campus is situated at Vill.Nepra, Chandigarh Patiala highway, Near Chandigarh.
Dr.Kataria said that with the permission to use CAT and GMAT score, the students of Chandigarh, Punjab, Haryana, HP and J&K would have the choice to choose CAT and GMAT affiliated B-School in Chandigarh region itself and they need not to go to Mumbai, Calcutta, Ahmedabad, Delhi, Pune etc. she added that in above states none of the private B School has this Honour.
Dr.Parveen Kataria, Director General, Aryans Group said that with GMAT, Aryans would get a platform to exhibit its talent and leadership in the education world. On one hand, existing students would get benefit in placements and on the other hand, Aryans would get an opportunity to tap the international market.
Dr.Manjit Kalra,Director said more than 4,650 programs, offered by more than 1,900 institutions in 81 countries, use the GMAT as part of the selection criteria for their programs. World famous Harvard, Boston, Kellogg etc and India's top Business Schools including IIMs, ISB etc have the privilege of using GMAT score for admissions.
More than 2.65 lakh management aspirants appeared for GMAT across the world in 2009, over 8% of them were from India. There has been a steady rise in the number of Indian MBA aspirants taking the test. With GMAC setting up base in India, it will mean GMAT aspirants can expect better facilities. Dr.D.P.Singh, Dr.Nindru Bal, Ms.Sukhamanpreet also addressed the press conference.
8,285 total views, 15 views today