IDP's Biggest "Australian Admission Programme"
Posted by Chirag Jain
Aug 23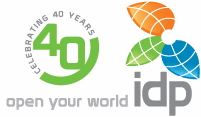 IDP Education stands at the forefront of international education around the world. Each year nearly 25,000 commencing students choose to use IDP to help them transform their dream of an Australian education into reality. IDP is also a part-owner of IELTS, the world's leading English language proficiency test. More than one million people sit the IELTS test each year, using it to demonstrate their English language credentials so that they can enrol in education, gain employment, or meet immigration requirements. IELTS is a tool which people use to change their lives and IDP – together with its partners Cambridge University and the British Council – is the provider.
REGISTER NOW !
32000+ students already enrolled by IDP India.
Interact with more than 20 universities & institutes face to face.
Apllication fee waiver*.
On-the-spot offers*.
Tuesday , 25th August 2009
Taj Residency, Chandigarh
Pre-Registration is Mandatory.
Visit : www.india.idp.com

2,039 total views, 4 views today