Chitkara Institute of Engineering and Technology, headquartered at Chandigarh proudly announces the advent of its annual cultural fest Pratibimbh 2010 – the quintessence of Indian heritage. Chitkara has always been a fore-runner in organizing cultural and tech fests of unmatchable veracity in northern India.
Every year the fests of their premier institute draw the participation of huge number of students from across the nation. To bring soul to the fiesta of our culture ahead, Chitkara is bringing accolade to the Indian culture-our premier heritage by organizing PRATIBIMBH 2010 on 1st and 2nd November 2010.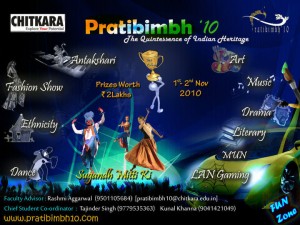 Registration have already started.
For more information log on to www.pratibimbh10.com
Contact:
* Mrs. Rashmi Aggarwal (Faculty Advisor)  +919501105684
* Kunal Khanna (Chief Student Coordinator) +919041421049
* Tajinder Manan (Chief Student Coordinator) +919779535363
4,758 total views, 3 views today