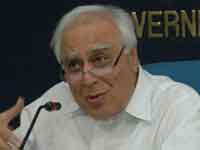 The government has appointed a committee of IIT directors to suggest the revised entrance system under which class XII marks will be given importance along with the entrance marks. Any reports indicating that students would need to score above 80 percent for appearing in the joint entrance exams are baseless, Sibal told reporters.
Speaking to reporters here, HRD Minister Kapil Sibal said the present criteria is that students need to secure 60 per cent at class XII for appearing in IIT-JEE. This is not acceptable. The minimum marks required for IIT-JEE could be raised up to 80 to 85 per cent. According to Sibal, the move is aimed at ensuring that students take their class XII seriously and checking the growth of coaching centres, which are thriving on imparting coaching to students for IIT entrance.
Sibal said a three-member committee has been set up to look into the curriculum and submit its report within three months, suggesting required changes. The IIT-JEE system was revised three years ago when the eligibility criteria was raised to 60 percent at class XII level for appearing in the entrance. At the IIT Council meeting, the minister said he also wanted to get rid of professional coaching for medical and engineering exams
The minister made the comments while chairing a meeting of the IIT Council here.
Source : Oneindia.in , Times of India
1,667 total views, 1 views today